FOR IMMEDIATE RELEASE:
June 17, 2011 Prix de la Photographie Paris Competition Announces its 2011 Winners
Adri Berger received several awards in the 2011 Prix de la Photographie Paris competition, which received over 4000 entries from around the world. Adri Berger received Silver, Bronze and an Honourable Mention a in the Press, Travel and Environmental categories for the entry entitled "Portraits, Northern Laos ", "POV POB', and for "Clearing the Fields".
Silver Award
Series: Portraits, Northern Laos:
Honorable Mention:
Series: Clearing the fields: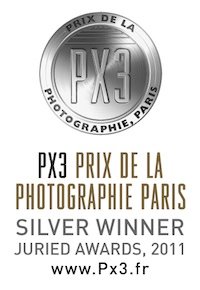 About PX3:
The 2011 Prix de la Photography Paris (Px3) competition is a photography competition that invites emerging and professional photographers to submit their work for juried consideration. The winners in each of the categories – Advertising, Book, Fine Art, Nature, Portraiture, and Press – have been invited to exhibit their work at Espace DUPON in Paris during the month of July. Now in its fifth year, Px3 strives to promote the appreciation of photography, to discover emerging talent, and to introduce photographers from around the world to the artistic community of Paris. Winning photographs from this competition are also published in the high-quality, full-color Px3 Annual Book.
Winner Contact:
Adri Berger
info@adriberger.com