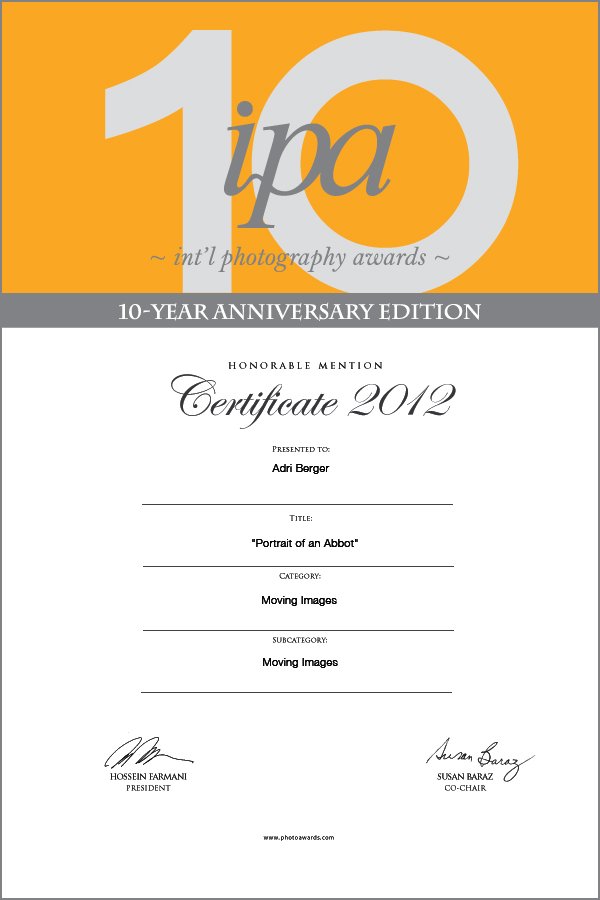 FOR IMMEDIATE RELEASE:
2012 International Photography Awards Announces Winners of the Competition
Adri Berger was awarded in the International Photography Awards Competition. International Photography Awards (IPA) has announced the winners of 2012's competition.
Adri Berger was Awarded: Honorable Mention in Moving Images – Moving Images category for the winning entry "Portrait of an Abbot."
About the Winner:
Adri Berger is a photographer with over 20 years experience of shooting commercial assignments across the world for a wide range of international clients. His impressive client list includes: multinational corporations, international publications, press associations and high profile arts organizations.
He is based in Laos and works for clients around SE Asia with a base in Bangkok, as well as for clients further afield. His interests have expanded over recent years into the realm of video and film and to see some of this work please click here: www.adriberger.com/films
ABOUT IPA:
The 2012 International Photography Awards received nearly 18,000 submissions from 104 countries across the globe. IPA is a sister-effort of the Lucie Foundation, where the top three winners are announced at the annual Lucie Awards gala ceremony. The Foundation's mission is to honor master photographers, to discover new and emerging talent and to promote the appreciation of photography. Since 2003, IPA has had the privilege and opportunity to acknowledge and recognize contemporary photographer's accomplishments in this specialized and highly visible competition. Visit www.photoawards.com
Adri Berger
info@adriberger.com
IPA Contact
Jade Tran
Competition Director
International Photography Awards
jtran@iawardsinc.com