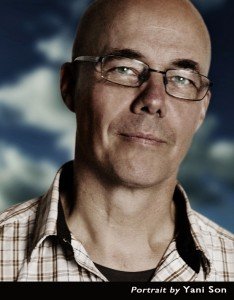 Adri Berger is a photographer with over 20 years experience of shooting commercial assignments across the world for a wide range of international clients. His impressive client list includes: multinational corporations, international publications, press associations and high profile arts organizations.
His successful commissions have resulted in several prestigious industry awards with internationally recognized bodies such as The Association of Photographers (London) and the British Journal of Photography. He has also been short listed for the annual Portrait Prize organized by National Portrait Gallery, London whilst sponsored by Schweppes. He received three nominations in the international Black and White Spider awards January 2010 and received an honourable mention, a bronze and a silver award in the 2011 PX3 awards. (www.px3.fr)
In June 2012 he received 4 nominations in the Black & White Spider Awards. Read more here.
July 2012 brought more good news with two further awards for his work. One bronze and one silver in the prestigious PX3 awards held in Paris France every year. Please read more here
His work has been exhibited in a variety of solo and group shows at institutions including: Thomas Kettle Gallery (London), National Portrait Gallery (London), the Association of Photographers Gallery (London) and Naarden Fotofestival, Netherlands. In the Neilsson Hays Library and the Dutch Embassy, both in Bangkok and other shows. Prints of his work are being held in the collection of the Arts Council in the UK.
Adri also works to promote the value and benefits that photography can bring to young people and has worked on several school-based projects that have been funded by Arts Council England and worked with inmates in Wandsworth Prison, London, teaching photography. He has also contributed to supporting the creativity of fellow photographers by working with a collective of like-minded photographers to set up a London gallery called Frame Zero, which exclusively exhibited contemporary photography with a documentary flavour. He is based in Laos and works for clients around SE Asia with a base in Bangkok, as well as for clients further afield. His interests have expanded into the realm of video and film and to see some of this work please click here: www.adriberger.com/films/
Clients Include:
Air New Zealand, Coca-Cola, Nestle, Reed Publishing, New Scientist, BAR Honda, Royal Mail UK, Imperial War Museum London UK, Prudential Insurance, Mastercard, Canon Company, Reuters, GE Capital, Highclere Thoroughbred Racing, Universal Music, Decca, Seiko Company, The Guardian Newspaper, Clerical Medical, Tesco UK, Harper Collins, Polygram, The Readers Digest, BBC Direct, ESPN Sports, The Automobile Association, Mazda Cars, Time Life, General Motors-Vauxhall, Cornwall Arts UK, Arts Council UK, The National Grid plc UK, World Wildlife Fund, Wildlife at Risk, Free the Bears Fund, Ministry of Tourism and Culture Laos, Unicef, Alila Hotels, KBS Broadcasting Korea.
Recent Films
view my other films